I'm asked often what resources that I use for my Young Living Business, where I do I get graphics, what website do I use, etc. I'm going to try to add all of those things here in this post and will try to keep it updated all the time.
First off you may not want or need all of these things, but all of these things I either use or have used in my business. Also, some of the links are affiliate links, which will give me free use of these resources or sometimes I get a percentage of the price you pay for a month or so…its just helps me deliver more content to you in the end.
Oil Revolution Designs : This company offers Monthly Graphics for the reasonable price of $5.99 a month. The monthly fee includes monthly promo graphics and typically one class. I have used this for many years. If you sign up for a year, you get a break on the price and all of the graphics for the year and some extras. All of these graphics are personalized with your info on each graphic.
Life Steps App: This is a Free App or upgrade for $8.99 to add the Website and more. Included: Resources (Like promos, back in stocks, recipes, etc..), Tasks, Courses, Contacts (Pro), Website (Pro), Goals & Analytics (Pro). Note: Everyone needs the free app and if you are a business builder, upgrade to Pro because it has so many things to not only share with your team, but also to send to those new to YL.
MyYL.com: This is a website owned and operated by Young Living and is $9.99 a month. It gives you a website, but more importantly you can create bundles for your niche, make carts for your customers so all they need is the link and put in their info. This is a game changer for the business builder. I use this all the time to share with those new to YL and they don't have to figure out the website to put in their order. Just one click and checkout.
Grow Workspace: USA and Canadian Content, Essential Oils for Professionals, Social Media Content, Webinar Slides and Scripts, Printable PDF's, Monthly Newsletter, Monthly IPA, Seasonal Bonuses, Past, Present and Future Content – This is all the basic package that starts at $9.99 and yeah its a LOT of stuff! I have an upgraded package from this and use this monthly in conjunction with Get Oiling which is next on my list.
Get Oiling: This is the website that you are on right now! It includes so many things that I was using and paying for individually. If you use my link your first month is only $1 and you get half off your 2nd month! This website is very customizable but also has built in email and texting options where I send out our newsletter and other things that I get from Grow Workspace listed above. This is by far the best deal on the page, but if you aren't ready for this one yet that's ok too.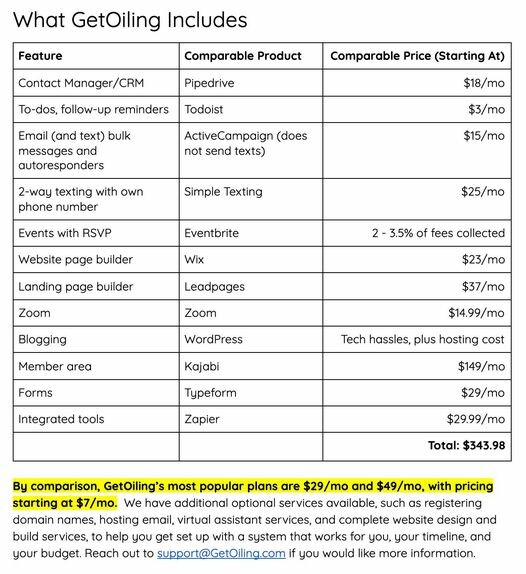 In the end, I'd start with the free app from Lifesteps and then MyYL.com. If you find that you want more things, check out the other resources listed and add as you need them. I'm always open to helping you figure out what is best for you and your business, so give me a shout and I'll help you in any way that I can. Contact Christi